Profile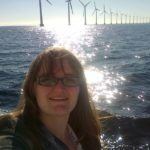 Stephanie Mann
Got a new science YouTube Channel, check out my first video here: https://www.youtube.com/watch?v=YJmGsQIcAwI
Curriculum Vitae
Current Job

Innovation Manager at the Offshore Renewable Energy Catapult
Favourite thing to do in my job: Make pretty graphs! And I like to travel to locations like Cornwall, Holland, Germany...

My Work: I'm effectively a "talent spotter" for new technology in renewable energy. You can call me Simon Cowell if you want

Read more

Big offshore wind turbines are some of the trickiest types of renewable energy to install. The benefits are that the wind is stronger and more steady offshore, and it doesn't disturb people so much when it's offshore. My job is to find ways to make this type of renewable energy cheaper – sometimes that's through small steps like making each turbine a bit bigger, but sometimes it's through researching new things like flying wind turbines, which could bring a big change in the cost of energy!

My Typical Day: Every day is different but I spend a lot of my time researching new technologies, travelling to various events, meeting technology developers and doing technical computer work in the office

Read more

On Friday I went out to visit a big offshore wind turbine. I took pictures especially to share with you guys on "I'm a Scientist!"

What I'd do with the prize money: If I won I would use it to host a series of events at schools that would allow students to make their own fully working wind turbines!

My Interview

How would you describe yourself in 3 words?

tall geeky funny

What or who inspired you to follow your career?

I always wanted to do maths and science but I suppose I was inspired to go into Climate and Renewables by my Friends and family who really care about the planet

What was your favourite subject at school?

Physics and Drama

What did you want to be after you left school?

Rollercoaster Designer

Were you ever in trouble at school?

Not with the teachers but sometimes with other students!

If you weren't doing this job, what would you choose instead?

I have a job outside my normal job - face painting and childrens' entertainments... so probably that!

Who is your favourite singer or band?

Muse, Greenday, Avici, Macklemore, Metallica... and disney!

What's your favourite food?

Lasagne

What is the most fun thing you've done?

I have bungee jumped off the world's tallest bungee jump!

If you had 3 wishes for yourself what would they be? - be honest!

To be able to visit every big theme park in the world, to make a positive impact on the world, and to have the ability to teleport instantly to wherever I want whenever I want!

Tell us a joke.

A horse walks into a bar and said "hey". The bartender said "sorry we only have beers"
---
---
---