Profile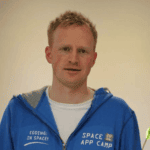 Christopher Nankervis
Curriculum Vitae
Current Job

Climate Data Scientist
Favourite thing to do in my job: Meeting people with big ideas

My Work: Writing computer code to generate weather predictions for customers

Read more

I use statistics and maths to write computer code to provide weather and climate forecasts. The weather data that I produce describes the chance of daily weather events on a local scale suitable for farming. This includes estimating the first day of air frost in the autumn, so farmers have 6 to 8 weeks to protect their crops from the cold weather.

One of our business customers is a lettuce grower, who needs to better match their harvest with sales in the supermarkets. Our forecasts provide them with better knowledge about the time it takes for their plants to be ready to harvest after growing inside greenhouses.

My next development step is to predict the risk of summer rainfall extremes to better prepare for flooding and droughts.

Read more

I solve big challenges. Forecasts always need to be updated, and also improved to make them more reliable for customers.

Speaking to customers and experts help me define farming problems and find solutions to them. I therefore attend a lot of events where I learn more about the farming industry and also work with other people with similar interests.

There is more weather and climate data available every day, and more technology that can make things run quicker. As there are things that I'm not an expert in I always ask for help from mentors and experts to support my work.

What I'd do with the prize money: I'd like to create a video on seasonal weather variability and its impact on food security

Read more

Many see climate change as a long-term process. Day to day fluctuations in weather also impact the farming industry. Heavy rainfall, heatwaves and severe cold temperature extremes are making farming more challenging. Science can help farmers adapt to change.

With the prize money, I'd like to produce a case study video blog.

This would help the public understand the importance of changing seasonal weather as well as climate change to local farmers.

Food security, ensuring that we get lots of cheap food, means that farms need to be better managed in the future. Chemicals used in fields also produce a lot of greenhouse gases, agricultural pollutants. To tackle this, the video will explain how seasonal weather predictions can provide more food for the same area of land, limiting the damage to our environment.

A short 10 minute video blog would interview some farmers affected by seasonal weather events in recent history, to demonstrate how science can improve the timing of crop protection to reduce their harvest losses.

My Interview

How would you describe yourself in 3 words?

Climate Data Scientist

What or who inspired you to follow your career?

Some great business coaches!

What was your favourite subject at school?

Mathematics

What did you want to be after you left school?

Atmospheric Chemist

Were you ever in trouble at school?

Rarely, I was the quiet one

If you weren't doing this job, what would you choose instead?

Accountant

Who is your favourite singer or band?

Kygo

What's your favourite food?

Four Seasons Pizza

What is the most fun thing you've done?

Travelling to San Francisco

If you had 3 wishes for yourself what would they be? - be honest!

Be a confident public speaker, honorary recognition, win an international award!

Tell us a joke.

How do you cheer up a cloud :) Make It stop raining.
---
---